We meet at 11:00 a.m. on Sundays at the Masonic Lodge in Taos.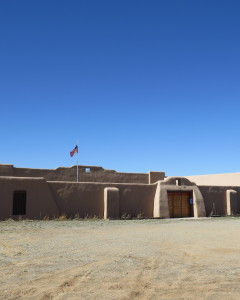 124 Camino de Santiago, at the intersection with Gusdorf, Taos, 87571.
Driving Directions – Directions to our meeting place at the Masonic Lodge: From Paseo del Pueblo Sur, turn east on Camino de Santiago (Martinez Plaza, with Yu Garden and Koko's, is on the corner; Friday Motors and Pizza Hut are directly across the street). Proceed one block to the intersection with Gusdorf. The Lodge is on the right, on the southwest corner of Camino de Santiago and Gusdorf Road, across the street from St. James Church and also from the Fire Department.