The Practice of our Faith
Two summers ago, during a family reunion in the Midwest, my GPS took me on a route that happened to go right past First Unitarian Universalist Congregation of Terre Haute, Indiana, a small congregation that at the time was lay-led. It was a Friday afternoon and I noticed one car in the parking lot, so I stopped.
I got a great tour of the building from a lay leader. When I asked what was meaningful to him about his congregation, he told me how in the wake of the growing Islamophobia nationally and specifically in Indiana, the congregation reached out to the Islamic center in town to let them know they were glad to be neighbors. From that initial outreach a monthly shared meal between the communities began. I was moved by this story of their ministry because it reflected not just the spirit of our faith, but the practice.
In September, major protests erupted in my hometown of St. Louis, Missouri. The protests were a response to the acquittal of a white former St. Louis police officer who fatally shot a black driver, Anthony Lamar Smith. As I write, the demonstrations have continued for more than twenty days.
On the first night of protests, the peaceful march turned chaotic as police moved in to surround and tear gas the crowd. First Unitarian Church of St. Louis and Jewish Central Reform Congregation of St. Louis both stayed open late in expectation of the march. As police began to surround the crowd, marchers found safety, shelter, and sanctuary inside these two congregations. In response to that courageous act of solidarity, Central Reform Congregation became the target of Nazi calls for violence.
This is no time for a casual faith. The heartbreak, anger, and fear of this increasingly repressive time are real.
The losses for individuals and communities are real—in particular communities of color, immigrants, trans people, people living with disabilities, children and families facing the loss of healthcare. The losses are real for all those impacted by the natural disasters caused by climate change. In this time, we need strong and healthy religious communities where we can bring our heartbreak and our anger—beloved communities of connection and ritual that help us build resiliency and courage. Strengthening our commitment to our communities builds a foundation for brave and loving ministry and action in this time.
We see this capacity for faithful and courageous action in the congregations in St. Louis. We also see it among UUs in Charlottesville, Virginia, showing up to resist violent white supremacists. I saw it in the ministry of the congregation in Terre Haute. These ministries speak to the second thing we must remember in this time.
We are not in this alone. We cannot respond adequately to the challenges of this time simply as individual congregations, nor solely as Unitarian Universalists. Our model and practice must be partnership and collaboration, specifically, partnership with communities most on the margins.
Theologically, our faith tells us no one is outside the circle of love. But in practice, the work of drawing that circle wide has never come from the center. It comes from those at the edges, naming the barriers and organizing to break them open.
All our congregations and communities, no matter the size, and each of us in our own ways can make a difference by tending to the soulful fires of love in this time and reaching out in ever deeper ways in commitment, solidarity, generosity, and partnership—both locally and as part of the larger Unitarian Universalist Association. May we all find ways to deepen the spirit and the practice of our faith as we answer the call to beloved community.
Yours in love, Susan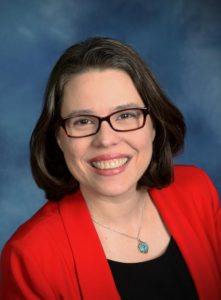 Rev. Susan Frederick-Gray, President, Unitarian Universalist Association