We are back live and in person each Sunday of the month

Following the pandemic, most or all of us have some level of immunity – whether through vaccination or natural immunity – and UCOT is meeting in person once again at the Bent Lodge, 124 Camino de Santiago, Taos, NM 87571.  
Please check the Covid ActNow website for Taos County on Sunday mornings. If the risk level is anything but green (i.e., yellow or orange), please wear a mask.
Sunday, October 1, 2023, 11 a.m. — Service: Interfaith Blessing of the Animals, Rev. Gary Kowalski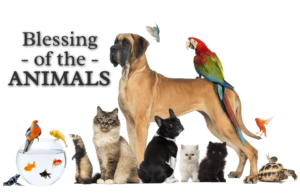 Rain or shine, we will meet in the courtyard of the Bent Lodge to celebrate the human-animal bond. Four-legged, feathered and finny guests are of course invited!  (Please be sure critters are leashed, crated, and/or under your supervision at all times.)  Because animals have no denomination, and because we hope members of the wider community will feel welcome, this celebration will be multi-faith. Sara Hanlon of the Ksitigarbha Tibetan Buddhist Center in Taos will be participating, along with Jason Knowles, development director of Stray Hearts Animal Shelter, which will be the beneficiary of this morning's freewill offering.  I'll be sharing some of my favorite prayers and scriptures that honor our kinship with other living beings.  Hope to see you there!
— Gary
Sunday, October 8, 2023, 11 a.m. — Sharing Circle: The Importance of Laughter, Lightness, and Love on the Spiritual Path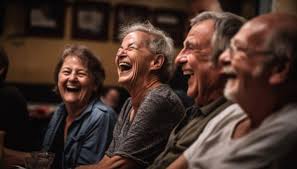 Instead of merely talking about laughter, this sharing circle will be a brief opportunity to experience "laughter for no reason" (e.g., no jokes or comedy). Not only is "laughter the best medicine," it has many benefits: it is a mindfulness-based practice designed to create and sustain positive energy where we choose to laugh spontaneously. It kicks depression and anxiety, produces endorphins, and decreases stress hormones. We will have time in our circle to share after the laughter.
Meredee Vaughn is a certified Laughter Yoga teacher, trained by Dr. Madan Kataria in 2003. She has taught and trained 125 Laughter leaders in Denver, and offered Laughter Yoga for one year in Taos before Covid denied us the opportunity to share hearty laughter. She is ready to laugh wholeheartedly with a fun-loving group again.
Sunday, October 15, 2023, 11 a.m. — Service: Pray Without Ceasing, Rev. Munro Sickafoose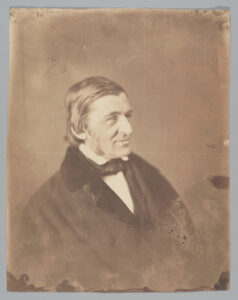 220 years ago, Ralph Waldo Emerson preached his first sermon as a Unitarian minister, "Pray Without Ceasing".  While his ministerial career was short-lived, his influence on Unitarian Universalism lives on to this day through his philosophy of Transcendentalism, if we only know where to look.
Sunday, October 22, 2023, 11 a.m. — Sharing Circle: Open Topic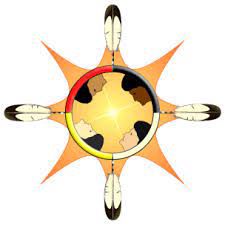 Using a virtual "talking stick," each person can
speak in turn, sharing whatever is in their hearts
or minds in the moment.

Sunday, October 29, 2023, 11 a.m. — Fifth Sunday Program: Querencia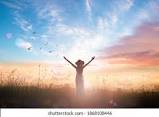 The topic for our 5th Sunday, as voted on by UCOT members, is Querencia. This is the Hispanic word for the experience, wisdom and knowledge of the land and water that supports all life and human community in the high, arid country. Our speakers, Patricia Quintana, M.S., and Dabi Garcia, Ph.D., are lifelong members of northern New Mexico generational communities. They are acequia  members, farmers and professional community workers in varied capacities. Dabi is also a musician and will sing a few songs with his guitar accompaniment. They look forward to sharing their stories and hearing from us.