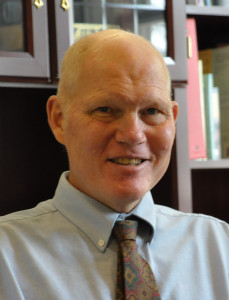 A graduate of Harvard College, Gary received his M.Div. from Harvard Divinity School, where he was also a Merrill Fellow. He has served congregations from New England to Kentucky and from the Northwest to North Carolina. He is the author of numerous books on spirituality, animals, history and science.  Visit his website at www.kowalskibooks.com.  
Spirituality for me means connection with a Reality larger than myself. I can find it in art and poetry, in nature, in camaraderie and friendship, and often even in church! As minister of the Unitarian Universalist Congregation of Taos, I hope to help strengthen this community, where people can experience a little of the wonder, beauty, and mystery of living, without judgment or dogma. I want to walk with others who are trying to make a difference in the world. For me, it is a privilege to serve this amazing little gathering of thoughtful, principled individuals, where honest differences are respected—and where you don't have to believe to be loved or belong.
If you are new to Unitarian Universalism, the best way to learn about our faith is to experience it firsthand. Please visit our services on first and third Sunday mornings. Or feel welcome to contact me directly. Whoever you are, whomever you love, wherever you find yourself on the path, I look forward to hearing from you.
Reverend Gary Kowalski
Public Statements
12/7/2022 – Love in America Changes for the Better 
https://www.taosnews.com/opinion/my-turn/love-in-america-changes-for-the-better/article_a327b09e-0eb0-50e4-bdb2-3b269e2d7d24.html
11/30/2021 – What I Learned in the Hospital
https://www.taosnews.com/opinion/my-turn/what-i-learned-in-the-hospital/article_dc629c57-c907-5bee-9c85-8172d050e43b.html
6/18/2020 – Protests are Patriotic
https://www.taosnews.com/news/politics/opinion-protests-are-patriotic/article_7b1e2479-0406-56f0-af64-a0d6b262edd8.html
8/21/2019 – Happy Labor Day: Remembering the Early Organizers, All Immigrants
https://www.taosnews.com/opinion/my-turn/happy-labor-day-remember-the-early-organizers-all-immigrants/article_f0c7c04e-68b9-5cb3-b9c2-8cdb72d2542c.html