On January 20, several local Girl Scouts visited with the UU congregation, and listened (while enjoying blueberry scones!) to a presentation by Marsha Fawns on her life experience as a Girl Scout. The purpose of the talk was to help the scouts as they prepare for the pin: "My Faith/My Promise."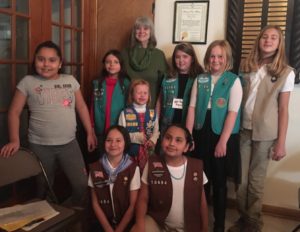 ---
Jim Schultz. Chuck Fawns, Chuck Doughty, Gary Kowalski, and Bob Silver recently met with Senator Carlos Cisneros at the Capitol in in Santa Fe to lobby on behalf of a series of moral issues. Also present was the Rev. Munro Sickafoose.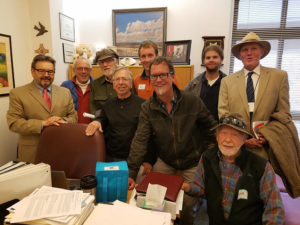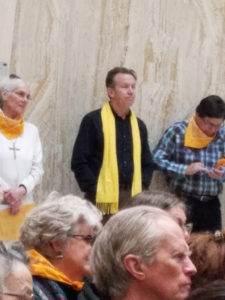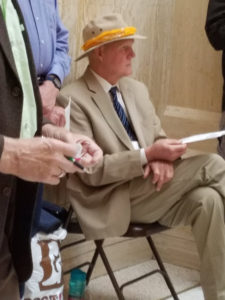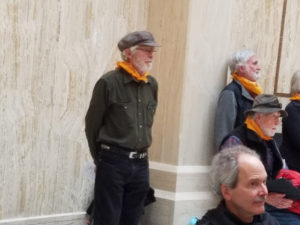 ---
DAY OF THE DEAD (DIA DE LOS MUERTOS), NOVEMBER 4TH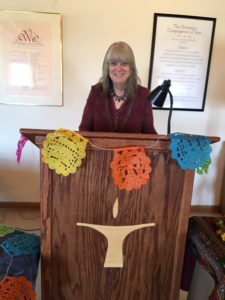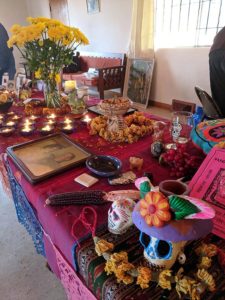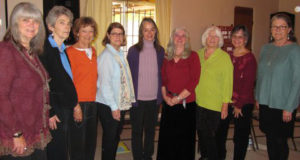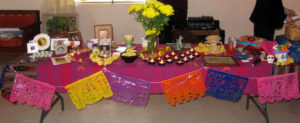 ---
BLESSING OF THE BEASTS, OCTOBER 7th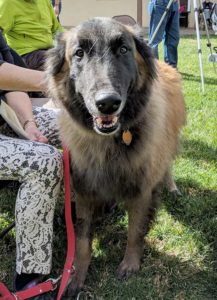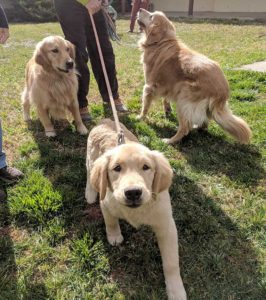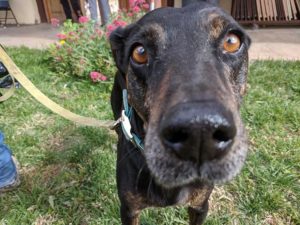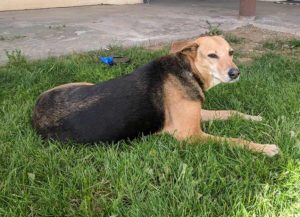 ---
UCOT MARCHES IN THE TAOS PRIDE PARADE IN SUPPORT OF THE LGBTQ COMMUNITY ON AUGUST 11TH
Photos courtesy of Mary Gray. 
UUA BOARD DEVELOPMENT DAY
On August 4th, the UCOT Board carpooled to Los Alamos to attend Board Development Day, presented by Sarah Millspaugh and Christine Robinson of the UUA Pacific Western Region. Hosted by the UU Church of Los Alamos, in attendance were Boards and members of several other area UU churches: the UU Westside Congregation in Rio Rancho, the First Unitarian Church of Albuquerque, the UU Congregation of Santa Fe, and even the UU Fellowship of Durango, CO! This was an interesting and thought-provoking day, with exercises in leadership, Board cohesiveness, communications, and goal-setting. We were proud to represent our church at this event!    
HIGHWAY 68 CLEAN-UP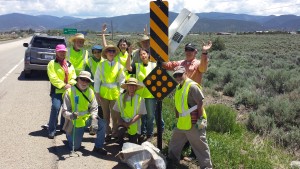 On Saturday, June 9th, a fearless crew of eight set out to clean up the UCoT stretch of Highway 68, between mile markers 39 and 40 south of town. It was a fun morning outdoors, even though it was HOT, and we did our part to keep the area clean of litter. Many thanks to Wally, Mya, Mark, Chuck, Gael, Emily, Joe, and Michael! 
GIRL SCOUTS REMINISCE
During a Dinners for Eight gathering, Sally, Madison and Marsha shared their Girl Scout histories and badges, discovering that while uniforms have changed, the adventures offered continue to be exciting. Photo courtesy of Marsha Fawns.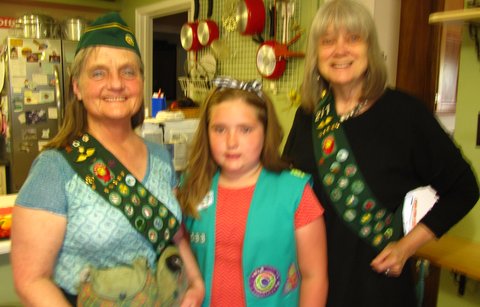 CAMPING TRIP
Jane Starks, Chris Westover, and Sally Savage met at El Vado Lake State Park for camping, camaraderie, and exploration. Photos courtesy of Sally Savage. 
STUDENTS AGAINST GUN VIOLENCE
On Friday, April 20th, students across the country staged a school walkout in commemoration of the students who died 19 years ago in the Columbine High School shooting—and to make a statement about school safety. Despite the cold, wet, snowy morning, roughly 30 students from Taos-area high schools participated in a march north on Paseo to the Plaza. An equal number of adults attended to offer silent support. The Taos High School principal was there and spoke in support of student safety. At least eight people from the Unitarian Congregation of Taos were present. The students themselves, along with Jill Cline from St. James, organized the event, which included student statements and music. Photos courtesy of Cristy Holden and Chuck Fawns.
2018 ANNUAL MEETING
On Sunday, February 4th, the UCOT Board conducted our annual congregational business meeting. A delicious lunch was served afterwards! Photos courtesy of Mel James.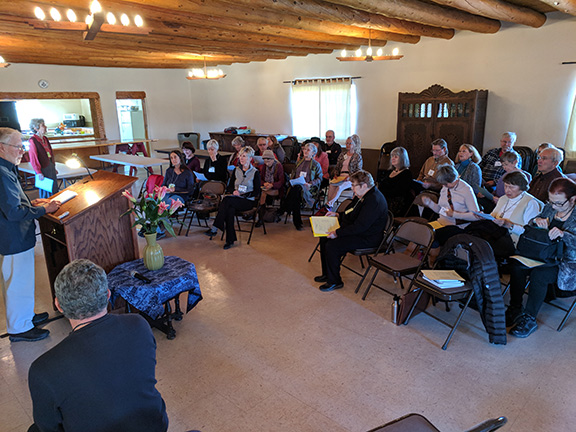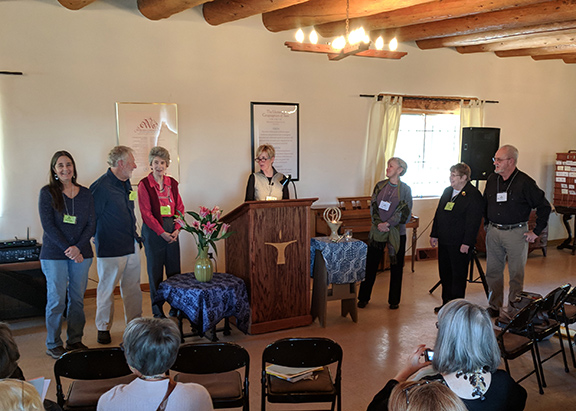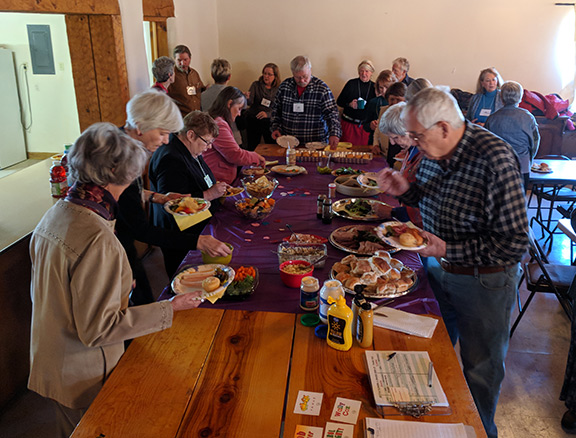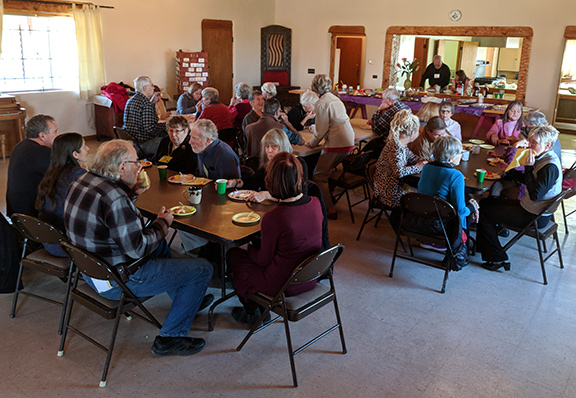 Here are a few of the highlights:
Chuck Fawns delivered an inspiring homily and a report on the progress of the Shared Ministry Development Team

Members were given the 2018 Service and Circle Schedule. You can download a copy by clicking on the link at the bottom of the Upcoming Services and Circles web page. 

Both of our ministers, the Rev. Munro Sickafoose and the Rev. Gary Kowalski, will be on our schedule once again for ten services each. The Rev. Doug Inhofe will speak at two services this year.

We thanked outgoing Board Secretary Chuck Doughty for his service.

Treasurer Bette Myerson discussed the budget for 2017 and 2018. We are well in the black now, thanks to the increases in pledge amounts and generous gifts in response to our budget shortall.

Incoming Secretary Emily Gillispie proposed a bylaws change to increase the board size to six instead of limiting it to five, which was voted on and approved. You can download a copy of our amended bylaws by clicking on the link at the bottom of the Who We Are web page.

The Board was pleased to nominate two new members at large: Virginia Saporta and Ray Taylor. Both were elected unanimously.

Mimi Owensby delivered her report on the 2017 Community Outreach expenditures.

We all enjoyed a terrific lunch – provided by the Taylor family.