2018 ANNUAL MEETING
On Sunday, February 4th, the UCOT Board conducted our annual congregational business meeting. A delicious lunch was served afterwards! Photos courtesy of Mel James.
Here are a few of the highlights:
Chuck Fawns delivered an inspiring homily and a report on the progress of the Shared Ministry Development Team

Members were given the 2018 Service and Circle Schedule. You can download a copy by clicking on the link at the bottom of the Upcoming Services and Circles web page. 

Both of our ministers, the Rev. Munro Sickafoose and the Rev. Gary Kowalski, will be on our schedule once again for ten services each. The Rev. Doug Inhofe will speak at two services this year.

We thanked outgoing Board Secretary Chuck Doughty for his service.

Treasurer Bette Myerson discussed the budget for 2017 and 2018. We are well in the black now, thanks to the increases in pledge amounts and generous gifts in response to our budget shortall.

Incoming Secretary Emily Gillispie proposed a bylaws change to increase the board size to six instead of limiting it to five, which was voted on and approved. You can download a copy of our amended bylaws by clicking on the link at the bottom of the Who We Are web page.

The Board was pleased to nominate two new members at large: Virginia Saporta and Ray Taylor. Both were elected unanimously.

Mimi Owensby delivered her report on the 2017 Community Outreach expenditures.

We all enjoyed a terrific lunch – provided by the Taylor family.
WOMEN'S MARCH, TAOS PLAZA
In conjunction with women's marches nationwide, Taos's "Hear Our Vote" march on January 20th kicked off a national voter registration and mobilization drive to remind those in power of our numbers. UCOT was well represented as several of our women and men participated. Photo courtesy of Chuck Fawns.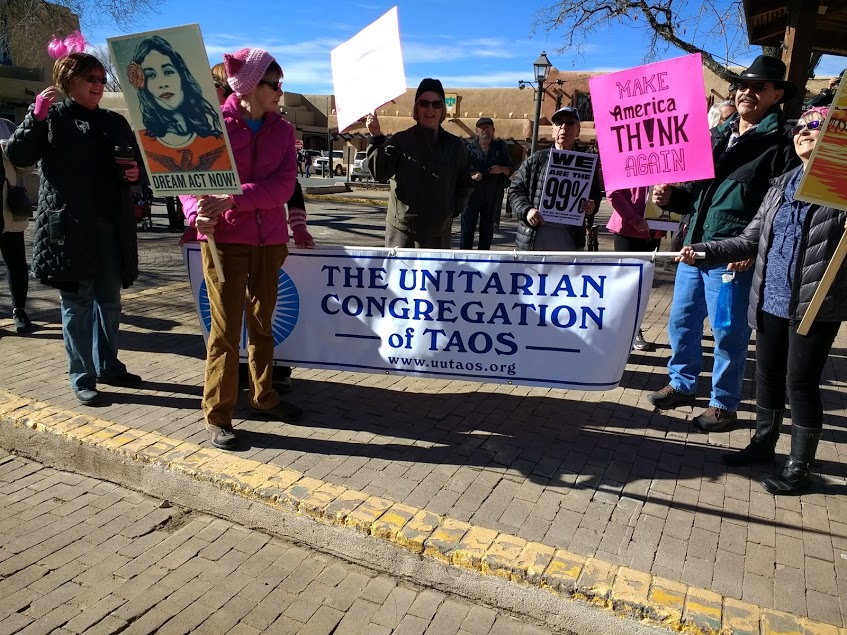 WOMEN'S GROUP POTLUCK
On December 14th the UCOT Women's Group enjoyed a wonderful potluck dinner and evening of fellowship and friendship. Many thanks to Margot Coleman for being a fabulous hostess. Photos courtesy of Marsha Fawns.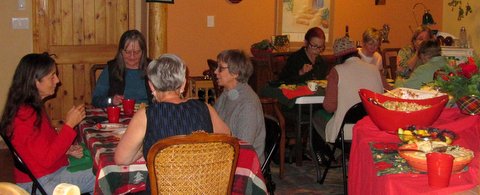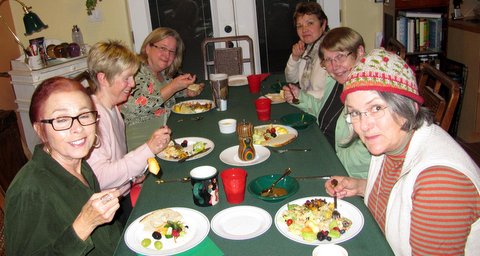 NEW MEMBER WELCOMING CEREMONY AND FALL HARVEST MEAL
On November 19th we welcomed twelve new members to our congregation, and afterwards enjoyed a Fall Harvest pot-luck. Thanks to Ray and Elaine Taylor (both new members themselves) for coordinating this event. Photos courtesy of Mel James.
DAY-OF-THE-DEAD ALTAR
Marsha and Chuck Fawns presented the special Day of the Dead Altar on November 5th. From Marsha, we learned some of the traditions behind the Day of the Dead celebration, and members shared stories and pictures of loved ones, whether human or animal. The wonderful Threshold Singers (middle photograph) provided the musical accompaniment.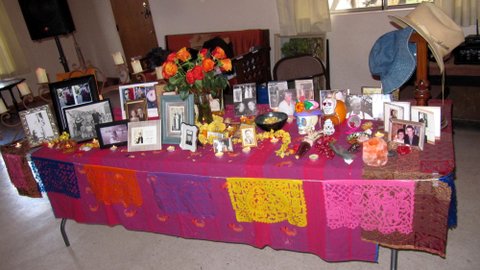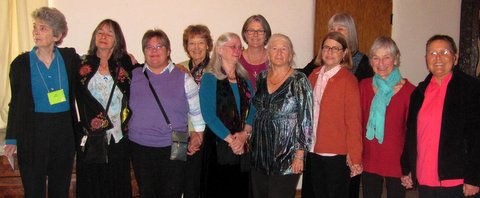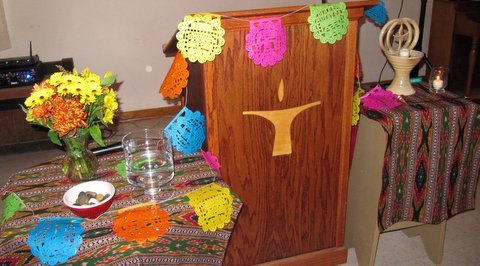 MUSIC TO LIFT THE SPIRIT WITH JIMMY STADLER
On October 29th there was an all-music program with Taos' singer-songwriter-band leader Jimmy Stadler. The song list was full of heart and energy with a balance of solo singing and congregational participation. Joe Mazza introduced Jimmy and was our MC, encouraging us to sing and move during the program in celebration of the gift of community. 
JULY 4TH PICNIC
Everyone enjoyed the annual July 4th picnic, hosted by Jim and Nancy Schultz. Below are just a few of the pictures of this lovely event. Click on a photo to expand it.
HIKING GROUP EVENTS
To enjoy and appreciate the beautiful area we live in and it's many hiking trails, we formed a hiking group. Below are pictures of our Slide Trail / Picuris Loop hike. This was a 6-7 mile, moderate-to-difficult hike, with breathtaking views. The photo at the bottom shows a large herd of mountain goats grazing on the side of the mountain. We ate lunch at the top, overlooking the gorge, then connected with the Rift Valley Trail which took us back to the parking lot. The hike took about 4.5 hours.
"WE GO HIGH" RALLY AT TAOS PLAZA
At least ten UCoT members attended the "We Go High" rally at Taos Plaza, despite the REALLY cold winds. Thank you, Barbara Scott, for getting the word out about this event!
VOLUNTEERS HAVING FUN AND WORKING HARD AT HABITAT FOR HUMANITY'S INTER-FAITH BUILD DAY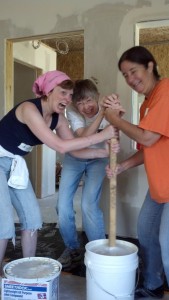 OUR SEMI-ANNUAL TRASH CLEANUP ON HIGHWAY 68
Thanks to Anne Marie, Ayleen, Barbara, Barley, Bob A, Chuck F, Emily, Gary Y, Ken, Laurel, Luis, Mark, Mya, Norm, Sharon, and Wally.